Time Wasting at Work
89% of US workers waste time daily.
Don't let your employees contribute to the statistics.


\
INTEK Web Protection - Web Security, Web Filtering and Bandwidth Monitoring
As the number of web-based security threats multiply - from phishing sites, proxies, websites pushing malware to spyware, adware and botnets - it is vital that you manage web security to avoid users accidentally straying onto malicious websites.
With Web Protection you get web security, web filtering and web bandwidth monitoring for your computers anyplace, anytime and all configured and managed.
Web Protection is installed on each monitored device and provides full visibility of the user's online activity regardless of their location, including the websites they have visited, the website's category (Adult and Pornography, Hate and Racism, Illegal etc) and reputation (Trustworthy, Suspicious, High risk etc) along with the web bandwidth consumed. Web Protection leverages an extensive site categorisation database providing URL coverage for over 280,000,000 domains. Web Protection is designed to provide optimal browsing speed through the use of multiple categorization servers strategically positioned around the globe. This affords the highest level of flexibility without a loss in performance and is ideal for both stationary and highly mobile organizations.
Web Protection contains three components:
Web Security:
Designed to stop users from accidentally visiting malicious sites, including those pushing malware, phishing, proxies, spyware, adware, botnets etc.
Web Filtering:
Web Filtering provides the facility to deploy common-sense time-based web browsing policies designed especially for the workplace.
Proactive internet access controls can protect the business from legal liability and reduce the risk of a security breach.
Bandwidth Monitoring:
Be automatically alerted when there's excessive bandwidth activity on a network so you can remediate quickly to optimise bandwidth and maintain productivity.


WEB SECURITY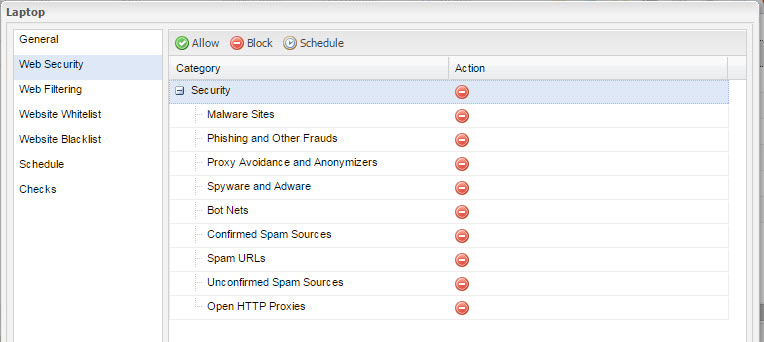 WEB FILTERING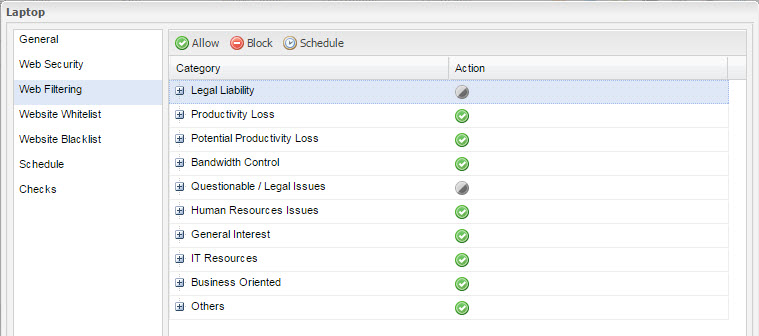 WEB FILTERING - LEGAL LIABILITY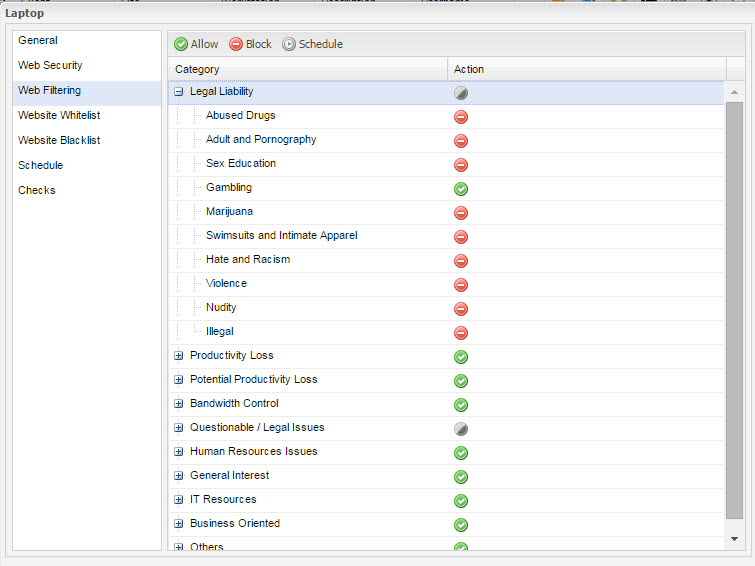 WEB FILTERING - PRODUCTIVITY LOSS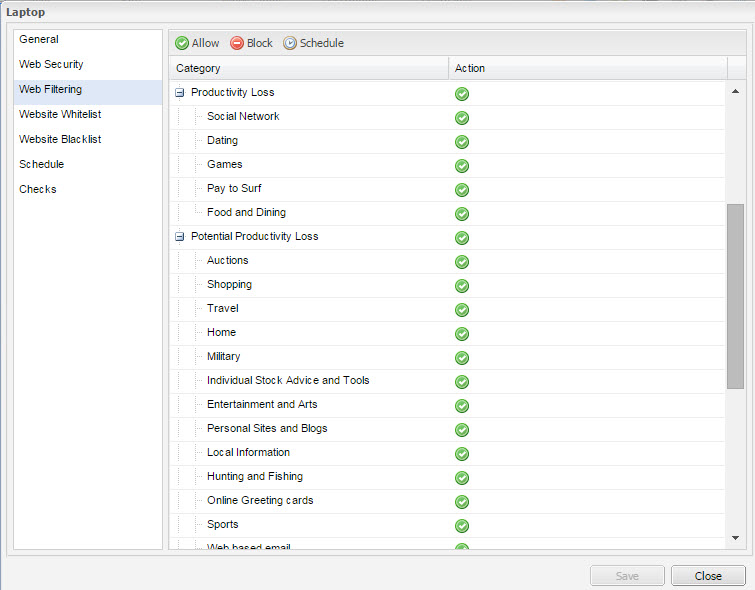 WEB FILTERING - BANDWIDTH CONTROL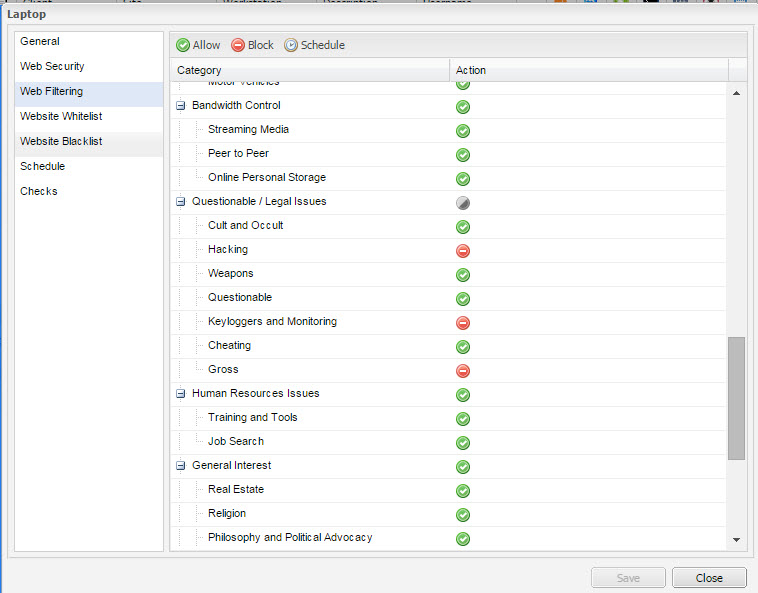 WEB FILTERING - GENERAL INTEREST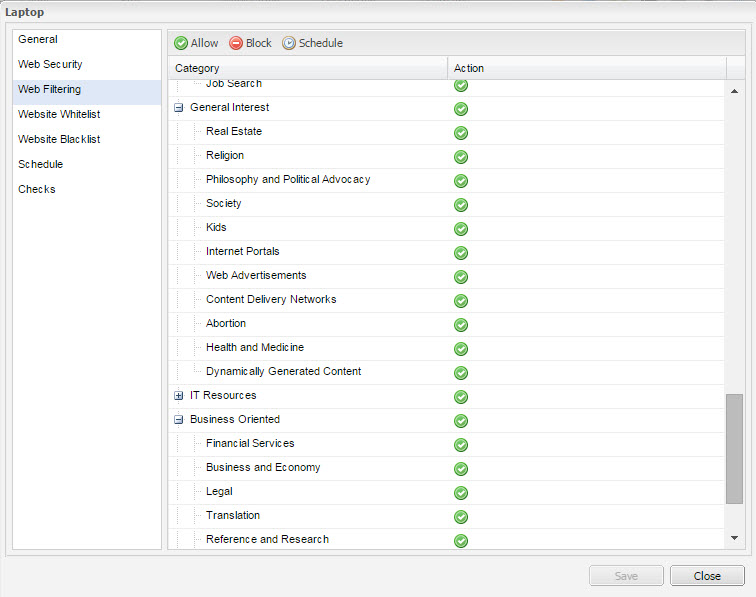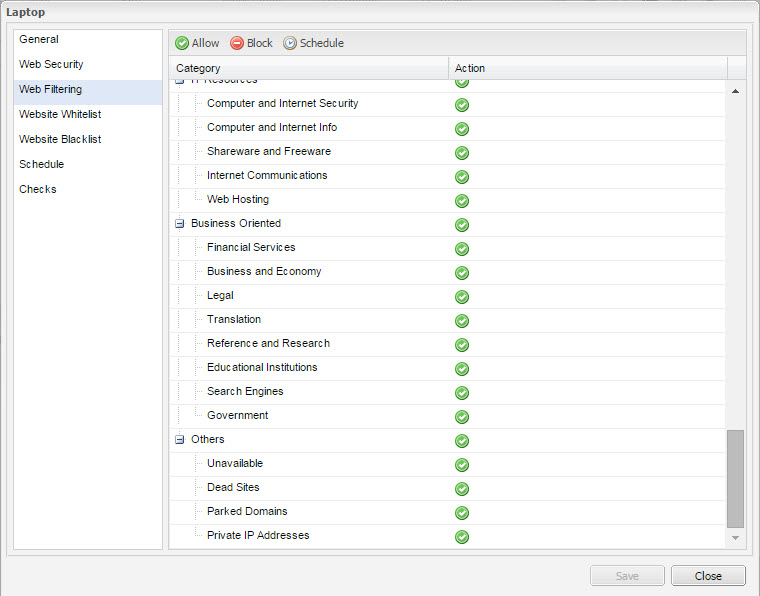 SCHEDULE Internet Access 24 hours a day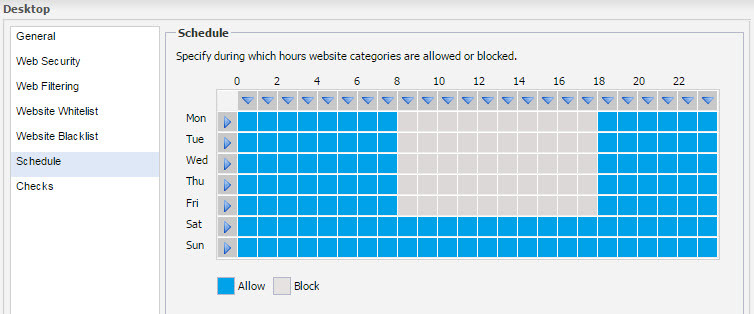 Top Websites for Slacking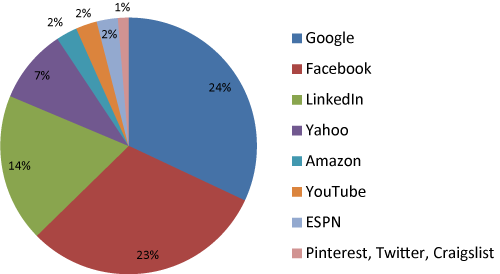 If you are looking for a Managed AntiVirus Solution, Managed Maintenace Services or Web Protection & Security contact us today as we have a solution that will work with your business.
314-596-8750
Employees wasting time at work? Send an email and let us know Click Here

Enforce Internet Use Policy... Business or Home
Prevent Legal liability - Schedule Internet Usage