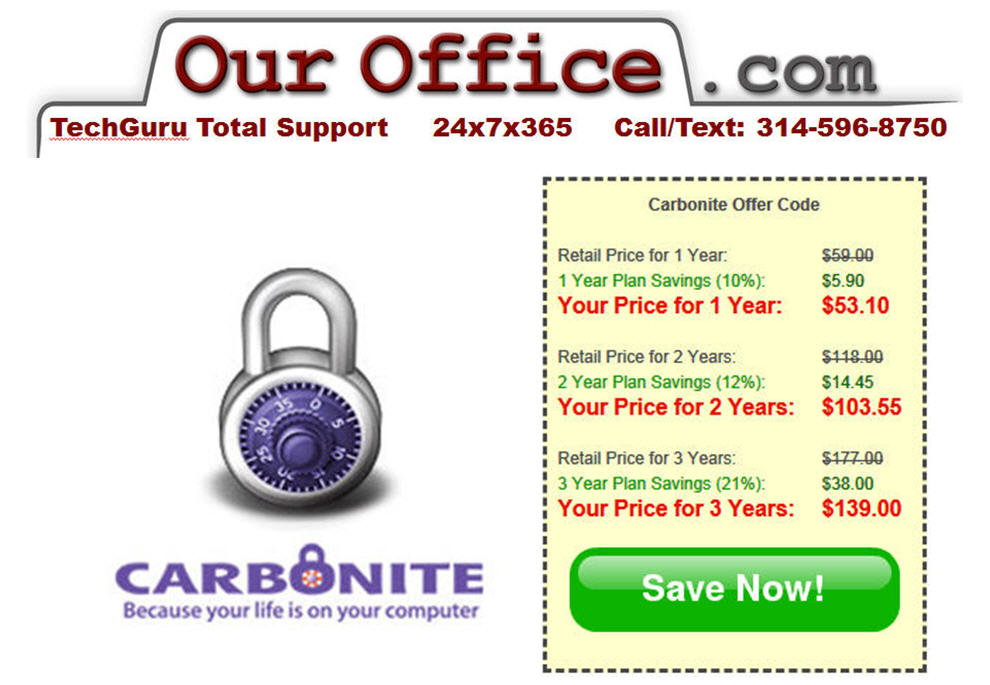 Back up today. And rest easy. buy now!
Carbonite takes the worry out of backup – by securely and automatically backing up your files to one of our state-of-the-art data centers, where they become your Carbonite Personal Cloud.
Why back up your files?
Because bad things happen to files and computers all the time. Hard drives crash. Laptops get lost or stolen. Viruses damage or destroy files. Kids (and even adults) delete files accidentally.
If you have valuable files you can't replace, the only real way to protect them is to back them up.
By the numbers
Up to 13% of hard drives fail every year.

– Carnegie Mellon University, 2007

50% of computer users have lost or accidentally deleted files from their primary computer.

– Chadwick Martin Bailey, 2010

Approximately 2 million laptops are stolen every year, and only 2% are ever recovered.

– FBI, 2008
Online computer backup – a better way to back up
Carbonite online computer backup saves time and money, provides extra protection for your files, and makes getting your files back fast and easy.
No need to remember to back up. Carbonite does it automatically and continually, in the background.
Secure transmission. Carbonite uses the same encryption technology used in online banking and e-commerce transactions.
Safe offsite storage. Your backed up files are stored in our highly secure data centers – protected from theft, fire, spills and other home and office disasters.
Fast, simple file recovery. If anything happens to any file, Carbonite finds it automatically in your Carbonite Personal Cloud backup and puts it back on your computer – right where it used to be – in a few simple steps.
Since 2005, Carbonite has backed up over 100 billion files. Today we back up more than 200 million files every day. Most importantly we've restored over 7 billion files that would have been lost forever.
START TODAY and don't delay!
SAVE up to 21% - Select 1 year plan for 10% Savings, 2 year plan for 12% Savings or 3 year plan for 21% Savings and Be Safe! FREE Trial
Step 1: Download and install.
Step 2: Buy Now (below) or Come Back here anytime before the end of the trial period.
Step 3: When you click on the Buy Now and make your purchase you will receive your an email from Carbonite with your
ACTIVATION CODE -

Remember - Backup and Be safe!